The Magic Of Acupressure For High Blood Pressure
No needles, no hurt, just using your fingertips and applying acupressure to specific acupuncture points on your body will lower your high blood pressure within minutes. It is a massage therapy involving the stimulation of acupuncture points using your fingers instead of needles.
It can be self-administered and the points that need this treatment are usually slightly tender when you apply this healing pressure. This makes them easy to find. These points also relate to the organ that need this treatment. Remember never to over-stimulate the points.
Include it as part of your high blood pressure treatment, thereby regulating your health irregularities. Trust me it will improve your physical and mental well-being. I know since I have been using it to complement my treatment for years.
The beauty of it is it can be done anywhere, anytime, on your body.
Acupressure is a manual procedure of rotary compression or thrust of your fingertips into known Oriental acupuncture points, that stimulate or sedate the autonomic nervous system.
All that is needed is for you to stimulate your acupuncture points along the related meridians each day and several times a day. As your blood pressure fluctuate throughout the day this will help to keep it under control.
It is also effective in the treatment of pain, nausea, digestive disorders, migraines, tiredness, insomnia and depression. This self help can save lives. 
Acupuncture Without Needles
book is an excellent home procedure to use for a mild case of high blood pressure. And, also in an emergency for a chronically high blood pressure individual who might have fainted. After an emergency a doctor should then be called at once.
Use this book and discover where your pain and/or discomfort begins, how it may show up elsewhere in your body and how to use this needlessness technique to eliminate it. I call your pain and discomfort areas magic points because of the almost instant result.

So lets find your magic points.
Emergency Technique For Lowering High Blood Pressure
We start at the Carotid Sinus that is located at the top of your Adam's apple where you will slide your finger back until you feel a pulsation and lightly press on both sides of your neck.
This gland regulates your blood pressure. Hold that area for a slow five minute count inhaling deeply then exhaling. Repeat three times.
Next locate the bony ridge at the base of your skull - see example below. This ridge runs from ear to ear. Slide your fingers across it and note the painful areas. Apply pressure and massage both sides of your skull. Repeat at least three times.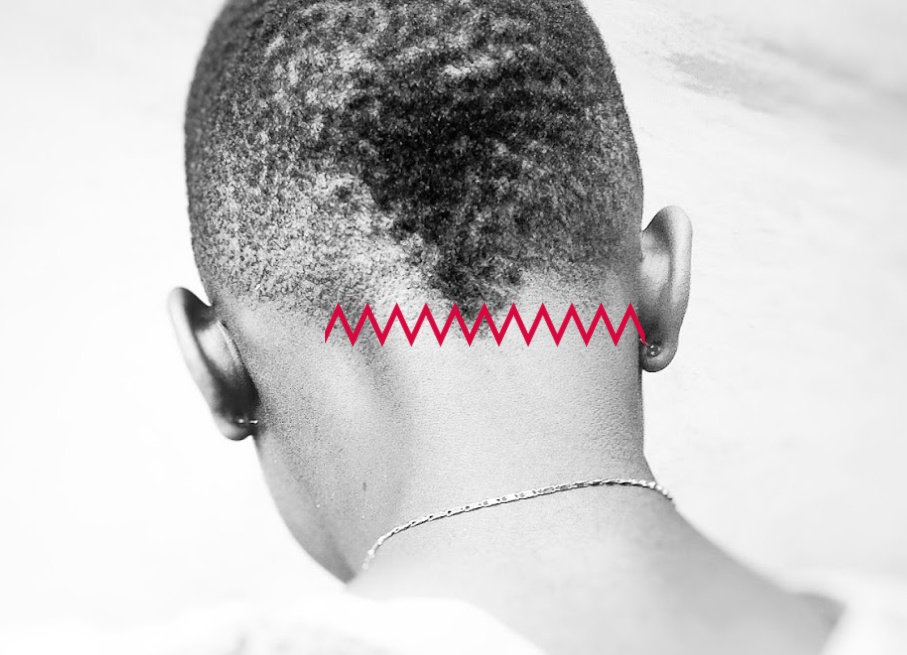 Then place your fingertips of both hands into your solar plexus area and expel all the air from your lungs. Apply pressure and hold for a slow five count and release. Repeat three times.

Grasp the tip of your third finger, squeeze, and pull on your third finger on both hands. Repeat alternately five times on each hand.

Last but not the least, compress and rub along the base of your skull until the tenderness is gone in the scalp and underlying tissues. As the tenderness dissipates, this is proof that your high blood pressure has just been lowered.
To enhance your treatment even more, when performing acupressure treatment apply 1 to 3 drops of
essential oil
to the acupuncture point with your finger and massage.
Acupressure
Click here to share your story with other visitors to this page.
The above points are my favorite acupressure treatment. You can easily do them throughout the day, anywhere or anytime you might feel a little tightness in the back of your neck, which is when your body is telling you that your pressure is high.
Also by applying acupressure you encourage the upward flow of your energy through your chakras. Your chakras are energy centers that are found within the mid-line of your body and this energy movement brings emotional and spiritual well-being to you.

As further proof that these techniques work use your home blood pressure monitor and make a note of your readings before and after applying these procedure.
Other areas of your body where you can apply pressure to lower your blood pressure and tone your heart are:
the bottom of your left foot, below the ring toe (fourth toe) and approximately an inch below the base of your toe. This point is related to your heart.
Place your index finger on the skin between your big toe and your second toe. Slide your finger about three-quarter inch along the top of your foot until you feel a little depression between the two underlying bones. Press on this point with your index finger and you will lower your blood pressure by releasing all the stagnant energy in your liver meridian.

On the inside of the lower end of the upper left arm, approximately 2 inches up the arm from the wrist or three fingers from the wrist. Massage for 7 seconds above your wrist in the center area.

And, in the crease behind your knee.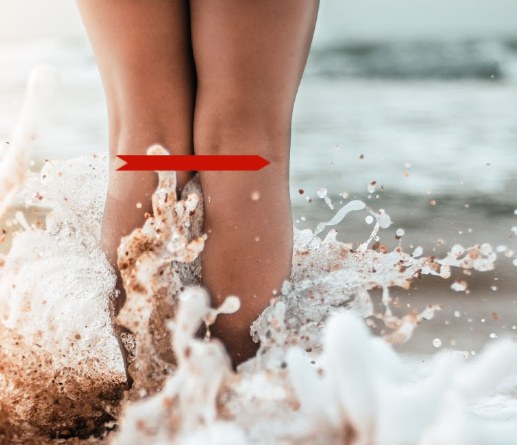 Your Carotid Sinus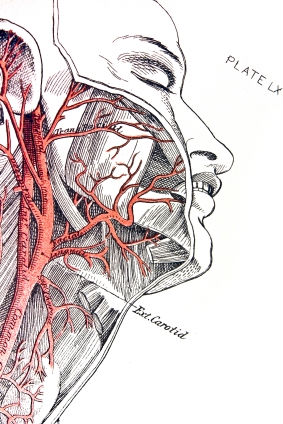 Your carotid sinus is said to be a ductless gland, but a very important gland.  It is attached to very special nerve end organs that have the ability to raise and lower your blood pressure by way of a reflex arc over the carotid branch of the glossopharyngeal nerve. 
This gland is located at the top of your Adam's apple towards the center side of your neck where you will feel a pulsation.
When this area is stimulated it sends a stimulus to that all important medulla oblongata, that is located at the base of your skull, which increases or decreases the heart rate on demand.
For more on how to locate and stimulate this very important gland that helps to regulate your blood pressure read Page 124 in Acupuncture Without Needles.
How Does Acupressure Works
Applying pressure stimulus along acupuncture points, rearranges those forces that the Orientals call yin and yang to open the blocked channels so that normalcy can be achieved.
How Long Should Each Point Be Treated
The applied pressure on each point should never exceed seven seconds, and it should be just long enough to stimulate the autonomic nervous system to do the job. And also the amount of pressure should be equal to what you can comfortable stand on your eyeballs. 
So learn these techniques and use this
Acupuncture Without Needles
book as a reference guide, because the life you save may one day be your very own.
Top of page
How Have You Used Acupressure?
Tell us your experience and how you have used acupressure? What are the results of using such a great healing techniques and if you have used it in an emergency?

Do share your story about this and help others?
What Other Visitors Have Said
Click below to see contributions from other visitors to this page...

Return From Acupressure to High Blood Pressure Treatments