High Blood Pressure In Children Is Not A Silent Disease?

High blood pressure in children is a rare problem and usually when present is often a symptom of another condition. If a prepubertal child has a blood pressure level that would be considered raised in an adult, it is almost always associated with renal or adrenal.
While high blood pressure is usually silent in adults, that is not so with children.  Children with untreated high blood pressure usually experience frequent headaches, sleeping difficulties, daytime tiredness, and chest or other pains.
At the same time though previously believed that high blood pressure in children were rare, it is becoming more common as obesity becomes more widespread.  In the United States approximately 15% of children are overweight or obese, and another 15% are at risk of becoming overweight or obese.
In my opinion lack of physical activity is a significant factor. Before the advent of computer games, we used to be much more active in our daily life, though some games are now more active.
Some Facts On High Blood Pressure In Children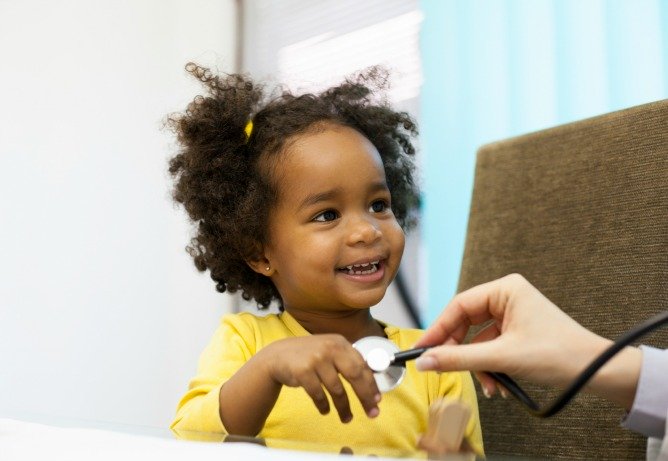 Here is a chart to show typical blood pressure readings for children between the ages of eight and seventeen.
| | |
| --- | --- |
| Age | Blood Pressure In mm Hg |
| 8 | 100/57 |
| 9 | 103/60 |
| 10 | 102/62 |
| 11 | 107/59 |
| 12 | 101/59 |
| 13 | 104/59 |
| 14 | 109/61 |
| 15 | 110/62 |
| 16 | 111/66 |
| 17 | 117/66 |
It is difficult to correctly measure blood pressure in children, say under 4 years old, because blood pressure monitor's cuff size are made for older individuals.  Though I am sure with the increase in child obesity finding monitors capable of measuring a child 's blood pressure will soon be a thing of the past.
So I went ahead and did some research for you and found and am recommending this
FDA Approved Fully Automatic Upper Arm Blood Pressure Monitor 3 mode 3 cuffs Electronic Sphygmomanometer
.
This EMI Nylon-Cuffed monitor is sized for pediatric use and comes with index and range markings, gauge holder, artery indicator label with standard inflation bulb, precision momanometer gauge and a zippered case for carrying.  So it is ideal for you to use and measure your children's blood pressure.  Purchase your own today.
Be Aware Of And Test For Coarctation Of The Aorta
What is coarctation of the aorta?  It is simply a narrowing of part of the aorta, the main artery for blood transport to the body. It has a constriction shortly after leaving the heart and the heart must now generate high blood pressure to push blood through the constriction.
So it is necessary to measure the legs of a child with high blood pressure to exclude the possibility of coarctation of the aorta.
High blood pressure in children increases during the first six weeks of life, then should remain almost constant until the age of five.   After that blood pressure increases gradually to adult levels.
The Origin Of Hypertension In Children
It is possible that the origin of adult essential hypertension starts in childhood or even infancy.  So for reasons I personally do not understand there has been some controversy about children being checked by their pediatrician or the family physician early in life.
Children in families with histories of cardiovascular diseases and premature heart attacks and strokes should be assessed early for these increased risk.
What parent would not want to give his or her child a future free of heart disease.  Good habits can be encouraged early in life and developed as easily as bad habits.  I do not want my daughter to develop high blood pressure and its side effects, so I am very pleased to see she is very conscious of her weight and her diet.
A word of caution, never put your child on a restricted diet without the  recommendation of a doctor. Because while an adult can benefit from a restricted diet a growing child can be harmed by the wrong kind of diet.
The doctor may refer you to a dietitian for help in tailoring a diet to your child's needs.
I know parents of today are all living very busy lives, but our child's lifestyle is entirely dependent, especially very early in life, upon his or her parents.   So start by replacing potato chips with fruit slices, and so forth.
We all might not have a backyard for our kids to play in but we have access to public parks.  So we must attempt to lower high blood pressure in children with one or more natural treatment beginning with being physically active to attain a healthy weight.
Overweight children need the support of their families; so we have to be patient, avoid criticism and show approval of their efforts.
Return to Home from "High Blood Pressure In Children".