Seasons Eatings | A Healthy Holiday Recipe Series You're Going To Enjoy And Love!
Holidays and health aren't usually words you hear together, but we're about to change that. "Seasons Eatings" is a holiday-inspired recipe guide designed to tickle taste buds while keeping health in check. All delicious 20 recipes guilt-free treats that don't compromise on flavor—all gluten-free and dairy-free, are in one spot for you to download now and is totally FREE.
It's the perfect gift for your neighbors, co-workers, and kid's teachers. It's healthy, practical, and thoughtful.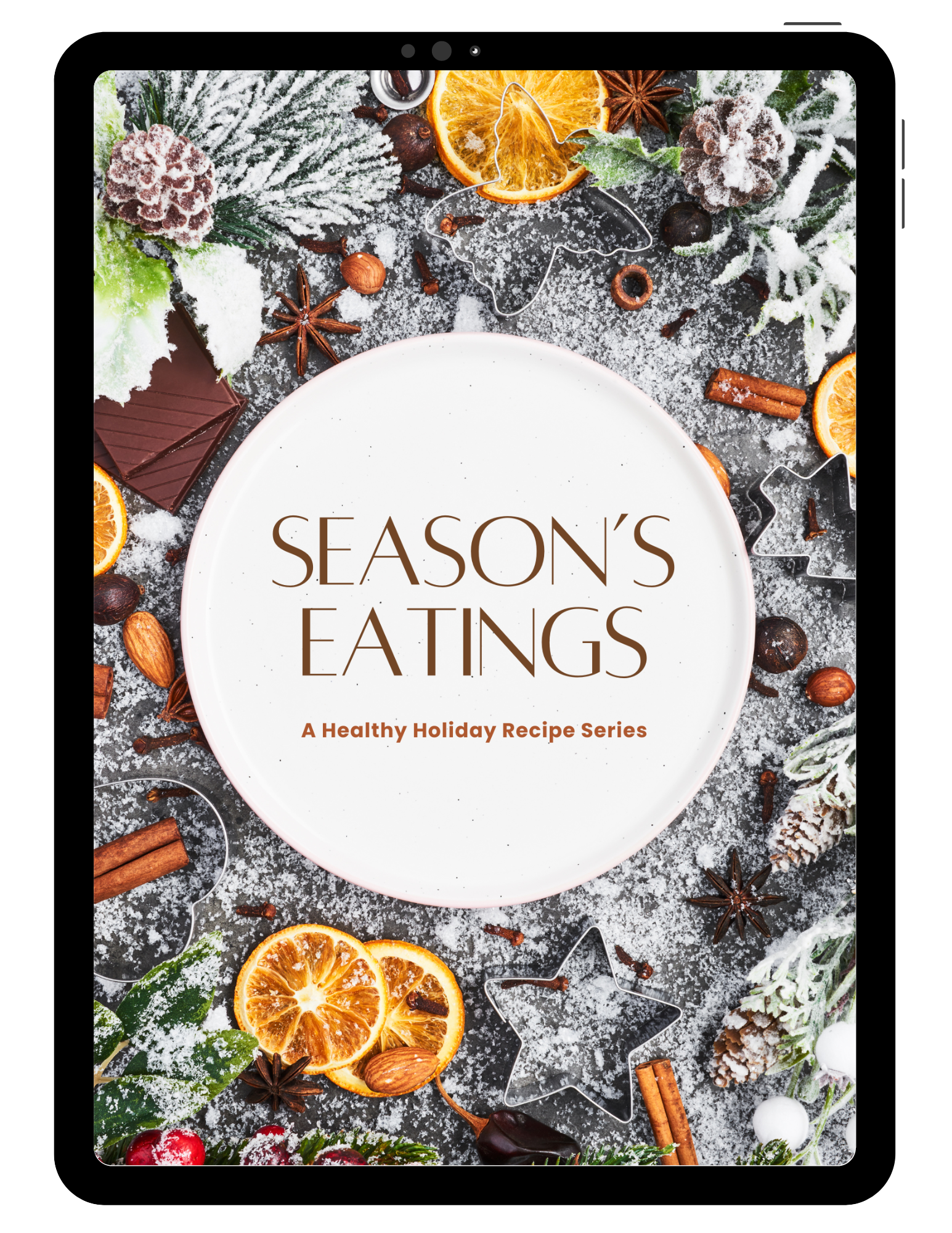 Season's eatings is a healthy holiday recipe series filled with details on how to make these amazing eats, gifts, cost effective:
Healthy Homemade Gifts – like herb infused olive oil, spice blends gift bottles, to name a few.
Healthy Festive Side Dishes – Sweet potato casserole, Kale and pomegranate salad and more.
Healthy Festive Beverages – how about some cranberry spitzer, Ginger turmeric latte…so delicious, and so much more.
Healthy Festive Desserts – the always Gingerbread cookies, an oh so delicious homemade pumpkin pie that is guilt free and so, so delicious, and of course other desserts selections for you to choose from.
Here's a taste of what's inside:
🥘 Timeless Classics, Refreshed: Love those holiday staples but looking for a healthier spin? I got you.
🍹 Festive Drinks: From warm, spiced teas to cool, refreshing mocktails, there's something for every mood.
🍪 Sweet Treats, Minus the Guilt: Because what's the festive season without a bit of dessert?
🎁 DIY Healthy Gift Ideas: Think herb-infused olive oils, homemade granola jars, curated spice blends, and more.
Tell me aren't all these deliciously curated, health-conscious recipes opportunities to improve your wellbeing and add flair to your holiday table!
You're Invited To Seasons Eatings
As you can see and feel as your tastebuds rev up, you'll want everything of what's mentioned above, but remember these twenty recipes in seasons eatings will you staying within your budget. The guide is not only packed with deliciously curated, health-conscious recipes but also sprinkled with some DIY healthy holiday gift ideas.
This is something you need and will enjoy and make not only over the upcoming holidays but throughout the year.
Fill in your contact information below then submit to download your Season's Eatings healthy holiday recipe series now!
Return from Seasons Eatings to Opportunities To Improve!