Walnuts Cardiovascular Benefit And Your Life Longevity
Walnuts cardiovascular benefit offers effective high blood pressure protection, enhances the protection of your cognitive functions, reduces your diabetic fasting insulin levels, and a remarkable radical scavenger. It has an abundance of polyphenols, rich in phenolic compound ellagic acid that has potent anti-inflammatory properties.  Walnuts are truly a part of the many super foods that stands out in their nutritional composition.
Walnuts are rich in polyunsaturated fatty acids, including omega-3 fat alpha-linolenic acid with its anti-inflammatory effects that prevents the formation of pathological blood clots.  Omega-6 is also found in this nut and has oleic acid a monounsaturated fatty acid.
If you eat it as a snack or add walnuts to your smoothies or salads on a regular basis, you are also lowering your LDL cholesterol level.  Your risk of coronary heart disease goes down by as much as 30 to 50 percent.  At the same time you have just increased your lifespan by about five to ten years.
Below is a Walnut And Fruit Compote snack recipe for your enjoyment, it is delicious.
Cholesterol And Heart Disease Benefits
The combined acids found in omega-3 and omega-6, aids in the build-up prevention of LDL cholesterol on your arteries wall, thereby preventing or decreasing your risk of high blood pressure high cholesterol.
Also Researchers found that walnut's amino acid L-arginine offers effective cardiovascular benefit if you have heart disease.
For Maximum Walnuts Cardiovascular Benefit
For the best walnut disease prevention benefits consume them raw and unpasteurized.  Start by adding walnuts to your favorite salads, have them as a quick snack and blend them into your smoothies..
One ounce (28 grams) of shelled walnuts provides these nutritional values: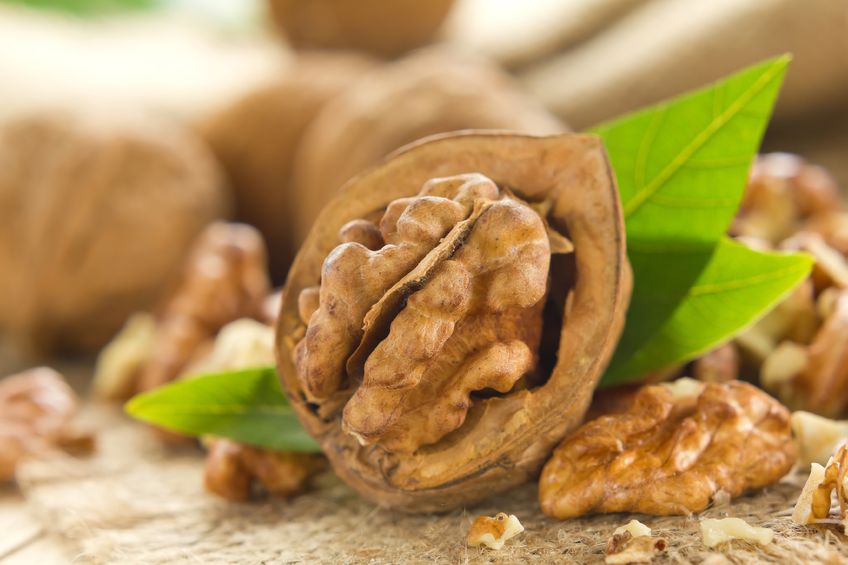 Calories                                  -           185
Protein                                   -           4.3 grams
Total fat                                 -           18.4 grams
Monounsaturated fat               -           2,500 mg
Saturated fat                          -           1.7 gram
Polyunsaturated fat                 -           13.3 grams
Magnesium                            -           44.6 mg
Dietary fiber                          -           1.9 gram
Omega – 3 fatty acids            -           2,565 mg
Omega-6 fatty acids              -           10,761 mg
Of special note: Walnut is high in calories and you do not want any weight gain, so replace all the unhealthy foods in your diet, like potato chips, with walnuts for heart health.
Diastolic Blood Pressure
A study done in Finland, found that increased Linolenic acid, found in flaxseed, legumes, nuts (walnuts, chestnuts) and citrus fruits, consumption was associated with the lowering of high blood pressure.
So a diet rich in the consumption of walnuts helps in the lowering of diastolic blood pressure. The linoleum acid in walnuts have a significant impact on your body by decreasing the excretion of potassium by the kidney by 40 percent and decreases serum cholesterol by 7 percent.
Walnut And Fruit Compote Recipe
I got this recipe out of a health magazine and tried it and found it to be delicious, a great snack to help build your walnuts cardiovascular benefit.  It is quick and easy to do.
Ingredients
1 small ripe Honeydew or Cantaloupe melon, or a slice of watermelon, seeded and cut into small pieces or divide the flesh into balls



1 red grapefruit, divided into segments



1 large banana, peeled and sliced



2/3 cup unsweetened apple juice



1 handful walnuts, chopped
Halve each grapefruit segment lengthwise, remove and discard the outer skins.  Place all the fruits in a bowl and add apple juice and walnuts and serve.
Eat Grapefruit With Caution: Read your drug information sheet that comes with your medication, because grapefruit can affect the absorption of some drugs.  Consume this fruit at least four hours after taking your medication.  Also you can replace grapefruit with a blood orange when they are in season.
Return From Walnuts Cardiovascular Benefit To High Blood Pressure High Cholesterol