High Blood Pressure During Pregnancy

High blood pressure during pregnancy can be troublesome for some women. Those who have high blood pressure have too much pressure pushing against the walls of their arteries. The more strain placed on the arteries, the worse off the condition could be. 
However, when blood pressure develops around 20 weeks in pregnancy or afterward, this could be an indication of a condition called preeclampsia.
Blood pressure is not the same during your pregnancy as before you were pregnant.  Your body goes through many changes during your pregnancy to provide the best possible place for your child's development.
For you to feed and nourish the fetus, your blood vessel widens and the volume of water and salt increases in your body.  You gain about 2 gallons of water during this time.

Due to the widening of your blood vessels your blood pressure drops during your first six months of pregnancy.
So if you had high blood pressure prior to your pregnancy you are more likely to have normal blood pressure readings for the first six months.  Though after that time period you may develop high blood pressure for the rest of your pregnancy.
In either case, doctors will monitor your condition much more closely if you do have elevated blood pressure. There is no way to know if you will develop complications, but by monitoring your condition, doctors can be proactive sooner.

In most women, blood pressure drops in the second trimester. It will then rise to normal levels at the end of the pregnancy. However, when blood pressure rises in the second or third trimester, especially to significantly elevated levels, this can lead to preeclampsia.
The problem will go away after the baby is born in most women.
But, when your blood pressure is too high, the child is unable to get enough oxygen and blood during your pregnancy, which can limit the growth and development of the fetus.
Magic During Your Pregnancy
During your pregnancy your body creates magic within your body to protect the fetus and you the mother-to-be.  Your body increases the production of various hormones to help your baby to grow and prepares you for delivery and the beauty of breast-feeding.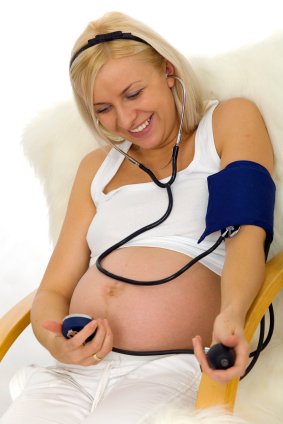 Your estrogen increases assisting the easy flow of your blood
Progesterone increases to help maintain the placenta and prevent your uterus from contracting before the time of delivery.
Then a recently discovered hormone from the placenta named Relaxin help to open your blood vessels keeping your high blood pressure during pregnancy at normal levels.
And the production of renin, an enzyme made by your kidney when it detects a fall in your blood pressure, increases.
Lastly, Prolactin another hormone increases preparing you for breast-feeding.
Read more on the effects of your
blood pressure while pregnant
on your body.
Understanding Pre-eclampsia
If you have high blood pressure that develops after 20 weeks, you may have preeclampsia.  As a warning sign of this condition your Doctor looks for protein in your urine.
Another condition that can also develop is Eclampsia that can be deadly for both the mother and the baby. It also limits your baby's supply of oxygen causing your kidneys, liver and brain to be damaged.
In severe cases some women even develop seizures.
Curing Your High Blood Pressure During Pregnancy
Although doctors are likely to prescribe medications to help control high blood pressure during pregnancy, there is no cure for the condition. In effect, the only way to get rid of it is to deliver your baby. However, doctors will monitor your condition for any developments or complications that may develop.
In general, it is possible for your doctor to control your blood pressure to maintain a low number therefore reducing your risks. High blood pressure during pregnancy is a risk factor that many women have and do not realize it until it develops.
Your Pregnancy And High Blood Pressure Experience
At what stage of your pregnancy were you diagnosed with high blood pressure? What treatment were you given and since your delivery did your blood pressure disappear?

Thanks for sharing.
What Other Visitors Have Said
Click below to see contributions from other visitors to this page...

Return to "Women And High Blood Pressure" from "High Blood Pressure During Pregnancy"