Caffeine And High Blood Pressure:
Are They Related?

The relationship between caffeine and high blood pressure is not clearly understood. Researchers are still even trying to find out why there is a relationship. However, some things are known. For example, caffeine can cause a short but dramatic increase in a person's blood pressure. This occurs even if an individual does not have high blood pressure.
In fact, research shows that for the average person, this rise in blood pressure can be significant. The amount of caffeine that is found in two or three cups of coffee is enough to noticeably raise blood pressure.

Systolic pressure, or the top number, can rise three to fourteen points.
The diastolic pressure, or the bottom number, can also increase between four and thirteen points.

In both instances, this is not a problem for a short-term rise for someone without high blood pressure. But it can be significant for those with high blood pressure.
What is interesting is that doctors are not sure what causes this spike.  Some believe that caffeine causes the adrenal gland to release more adrenaline. That adrenaline can further increase blood pressure.
Drinkers And Non-Drinkers Of Caffeine

There is evidence that shows that those who drink caffeine on a regular basis will have a higher, average blood pressure reading.
In addition, some studies show that those who drink coffee regularly can develop a tolerance to it and no spike is seen. In these individuals, there does not appear to be any long term effect on caffeine drinking.
Want To Know Caffeine And High Blood Pressure Effect?

Does this mean that caffeine should not be part of your high blood pressure diet?  If you want to know if caffeine is affecting your blood pressure, do the following: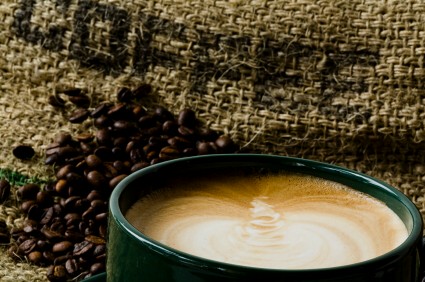 Take your blood pressure before drinking anything.



Drink a cup of coffee or another type of caffeinated drink.



Take your blood pressure 30 minutes after.
If you are concerned that there is a substantial rise in your blood pressure after consuming caffeine?  You should take steps to monitor the amount of caffeine that is consumed.
Reduce the amount of caffeine (including coffee and other types) to no more than 200 milligrams per day. This is about the same as two, 12-ounce cups of coffee.
Doing this will help ensure that the rise does not affect your high blood pressure.  Caffeine and high blood pressure do not mix!
How Are You Living With High Blood Pressure
Since your diagnosis, how are you handling it and whats your treatment?

Do rave about your health.
Return to "High Blood Pressure Diet" from "Caffeine and High Blood Pressure"