Vegan Recipes That Are Heart Healthy
This is just a small example of vegan recipes that are flavorful, tasty and easy to cook at home. It is a nutritional approach to treating high blood pressure. A vegetarian diet do protect you from hypertension and other cardiovascular problems by providing you with vitamins, minerals, and antioxidants that are so beneficial to your body.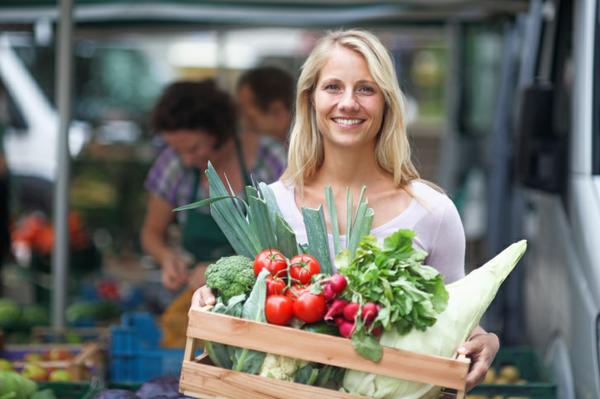 Researchers have stated that if you follow a vegetarian diet your systolic blood pressure is around 5 mmHg lower than meat eaters. There is a risk of a toxic load when you are a meat eater.
Meat, dairy and farm raised fish may contain hormones, steroids, and other toxic residue from their feed and processing. And though wild fish is seen as a better choice, it can still be contaminated with heavy metals like mercury and polychlorinated biphenyls (PCBs), which may disrupt our hormones.
Still there are some great benefits to this research and it is when we consume organic produce and reduce our consumption of animal foods it helps in the limitation of our exposure to these toxins. Also the reduction in blood pressure occurs within six weeks of omitting meat from your diet. So getting started with these vegan recipes is a win, win situation for your health.
The risks associated with many chronic diseases are reduced just by following a plant based diet and more likely have a positive effect on improved insulin sensitivity and lower cholesterol levels.
I believe that we all have a personal chef within us and only you alone knows what taste you enjoy. Feel free to add your own special touches and variations to any of these vegan recipes. Eating foods that excites your palate is always a good thing.

Here are some quick, inexpensive and heart-healthy entrees vegan recipes to make. These entrees also make great leftovers for lunches.
Vegetarian Chili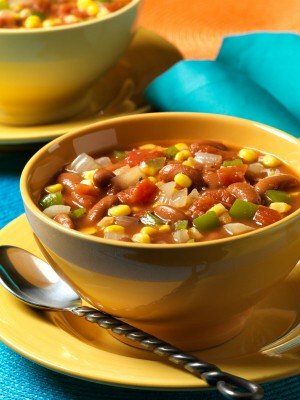 Makes 6 1-cup servings
2 to 3 large zucchini or summer squash, chopped
1 12-ounce package soy crumbles
2 medium onion,diced
1 6-ounce can no-added-sale tomato sauce or paste
3 tablespoons olive oil
2 sweet red peppers, cubed
2 tablespoons chili powder
2 large carrots, grated
1 teaspoon cumin
4 garlic cloves, minced
1 teaspoon oregano
1 28-ounce can low sodium Italian tomatoes, cut up
1/4 teaspoon cayenne pepper
1 can kidney beans, drained and rinsed
3 cups cooked brown rice
In large saucepan saute zucchini and onion in olive oil until tender.  Add red pepper, carrots and garlic, and continue to saute for five minutes.
Then add chopped tomatoes, kidney beans, soy crumbles, tomato sauce, and spices.
Simmer until cooked thoroughly for about twenty to thirty minutes, stirring occasionally.
Serve as a soup or over brown rice.
Nutrition information per serving (without rice): Calories: 200, Fat: 10 g, Saturated fat: 1 g, Total carbs: 16 g, Fiber: 18 g, Sodium: 200 mg, Protein: 10 g
More Heart Healthy Vegan Recipes:
Veggie Italian Meatballs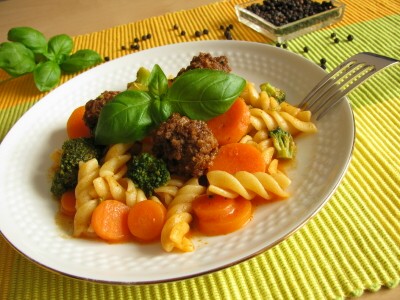 Makes approximately 10 meatballs
1 12-ounce package soy crumbles or ground turkey meat
1/2 cup egg substitute


2 tablespoons chopped garlic
1/4 cup Parmesan cheese or grated soy cheese


1 small onion, finely chopped
1 rounded tablespoon ground black pepper


1/4 cup chopped parsley
1/4 cup bread crumbs


Whole-wheat pasta to serve
Preheat oven to 375 Fahrenheit.
Combine in a small mixing bowl soy crumbles, garlic, onion, parsley, egg substitute, cheese, pepper, and bread crumbs.
Knead all ingredients together, mixing thoroughly then rolling into small to medium balls.

Place on cookie sheet that has been sprayed with olive oil to prevent sticking. Bake for forty minutes until firm and crusted.
Serve on top of whole-wheat pasta covered with Meatless Pasta Sauce.


Nutrition information per serving (2 meatballs, without pasta): Calories: 280, Fat: 5 g, Saturated fat: 2 g, Total carbs: 45 g, Sodium: 210 mg, Protein: 12 g
Meatless Italian Pasta Sauce
This Meatless Italian Pasta Sauce is one of the most tasteful vegan recipes I have ever made.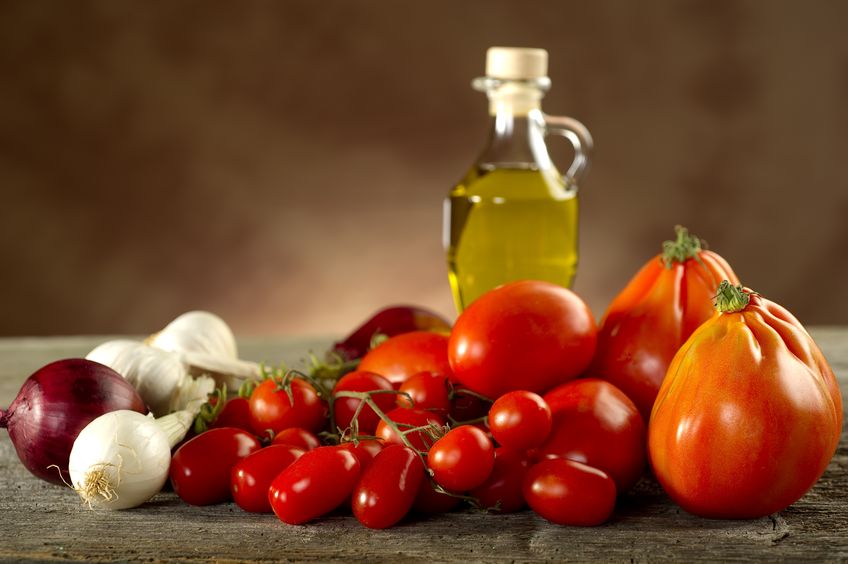 4 tablespoons olive oil
1 medium onion, chopped


1 1/2 heaping tablespoons chopped garlic
1 rounded tablespoon fennel seeds


1 12-ounce package soy crumbles
1 28-ounce can ground, peeled, no-added-salt Italian tomatoes


2 6-ounce cans no-added-salt tomato paste
2 cup water


1/4 cup chopped parsley
7 to 10 shakes Tabasco sauce


Whole-wheat pasta to serve
Pour olive oil into large saucepan. Add chopped onion, garlic and fennel seeds and saute ingredients for about five to six minutes.
Then add soy crumbles, tomatoes and saute for another five minutes.

Mix in tomato paste, water and stir. Add chopped parsley and Tabasco sauce and let simmer for about 1 hour, stirring at intervals.
You can replace tomatoes and tomato paste with one 24 to 26-ounce jar of ready no-added-salt pasta sauce.
Sauce can be served with 1/2 cup whole-wheat pasta.
Nutrition information per serving (with pasta):
Calories: 350, Fat: 13 g, Saturated fat: 0 g, Total carbs: 45 g, Fiber: 5 g, Sodium: 210 mg, Protein: 12 g
Saag CHHole - Indian Spinach and Chickpea Curry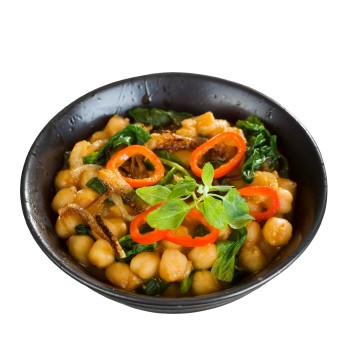 Makes 4 1/2 cup servings
2 tablespoons canola oil
1 teaspoon cayenne pepper


1 teaspoon whole cumin seeds
2 teaspoons curry powder


2 onions, chopped
1 teaspoon garam masala


2 teaspoons fresh chopped ginger
4 plum tomatoes, chopped


1 tablespoon fresh chopped garlic
1 Large bunch fresh, or 1 pound frozen, spinach


1 16-ounce can chickpeas, drained and rinsed
Heat oil in a pan. Add cumin seeds and onion and fry till light brown. Then add ginger, garlic, cayenne, curry powder, garam masala and chopped tomatoes.
Cook for about five minutes.
Then add spinach and chickpeas, mix well and simmer for five minutes.

Serve as a filling for whole-wheat wraps or make curry/gravy by not allowing the water to dry out completely. Serve over brown rice or whole-wheat couscous.
Nutrition information per serving:
Calories: 240, Fat: 12g, Saturated fat: 0 g, Total carbs: 25 g, Fiber: 9 g, Sodium: 150 mg, Protein: 7 g
Share Your Vegan Journey With Friends And Family
The power of your friends support is amazing. They make it easier to transition to a vegan lifestyle. So get all your friends and family on board.  Good luck....
Your Foods For High Blood Pressure List
What foods have you found to not spike your blood pressure measurements? Whats on your grocery list, and have you download a copy here?

Do share your ideas here.
Return to "Foods For High Blood Pressure" from "Vegan Recipes".