Innovative And Delicious Slow Cooker Recipes

These slow cooker recipes are as old as time itself, that take little work and even less attention as they infuse food with a goodness that only time can give. And all that is required is that we slow down.
Slow cooking simmers gently in a flavorful broth while we run errands, go to work or just do some fun stuff.  And while we are occupied elsewhere, our meal is being transformed and flavors are blending.
The advantages of these slow cook recipes is you can simmer dinner for hours without worrying about overcooking it.  A slow cooker turns tough meat into succulent, melt in your mouth feasts.
Though slow cooking is easy, be careful it do take some effort.  So get to know your cooker's strengths and limitations so you can be more artful in your efforts.
My Slow Cooker
My cooker is not programmable, it is a three in one pot set, with a 2-quart, a 4-quart and a 6-quart stoneware and one glass lid and that fits all three, with a temperature control and stoneware size buttons and an electric base.

The settings are high, low, warm and off but that does not stop me from making flavorful and tasty recipes. First lets look at slow cookers features:
Instant Pot DUO60 6 Qt 7-in-1 Multi-Use Programmable Pressure Cooker, Slow Cooker, Rice Cooker, Steamer, Sauté, Yogurt Maker and Warmer
Generally all operate the same. The differences between programmable and non-programmable ones are more often between models than between brands.
Things To Consider Are:
Controls on a basic model have three settings: low - heats between 185 F and 200 F; while high - heats between 250 F and 300F, and then the next setting is off.
Some models have a warm settings which is about 165 F. All these controls are very important in choosing your slow cooker recipes.
These models do not keep track of time. Once you turn them on and set at one setting, they stay there until they are manually turned off or switched to another setting.
The earlier versions had four timed settings. 
Now some of the new brands of programmable slow cookers, sold by Amazon, allows you to set the timing by half-hour or minute increments - from 1 minute to 20 hours. After the set time, they will switch to warm, but cannot be switch from high to low or switched off automatically.
The programmable slow cooker models tend to cost more than the non- programmable models.  So when choosing your slow cooker recipes you must consider the size of the pots. They range from one to eight quarts, though most are between three to six quarts.
Next slow cookers are round and the large ones are usually oval.
Things to consider about the shape is are you planing to do some baking. To accommodate a medium size banking pan the interior has to be at least 7 inches wide.
Normally when cooking in a slow cooker there is moisture under the cover. To reduce that moisture under the lid you just place a folded flat-weave kitchen towel under the lid and that prevents the cake or pudding from steaming instead of baking.
With this modification you can slow cook cheesecakes, fruitcakes, pudding cakes, crisps and steamed puddings. However, for the best results stick with moist, dense cakes. This type of cooking cannot bake a buttery crumb or an aerated texture cake.
The cooker must be covered to regulate the temperature directly around the baking dish.

Last, in choosing your slow cooker is appearance. You can purchase one in a color that coordinated to your kitchen, decorated with country motif, clad in stainless steel, or emblazoned with NASCAR collage.

Most devotees, and I am one, are motivated more by the machine's ability to cook untended all day.  So I am listing slow cooker recipes that are as good as anything you could cook with a traditional cooking method and are heart-healthy.
Slow Cooker Recipes
I highly recommend these slow cooker recipes and cookbooks for you to review and purchase.
Vegetable Stock - Homemade

When making soups do not use bouillon cubes, instead make your own stock. It is simple and easy like most slow cooker recipes. Just place all ingredients in the cooker for four hours.  Then strain and allow to cool, then store in a container and refrigerate or freeze and use when required.
Place in 4-quart cooker, roughly chopped vegetables, especially carrots, turnips, scallions, onions, garlic, pepper and celery, your favorite herbs, bay leaf, and a few peppercorns.

Add 1 1/2 to 2 liters/quarts of water bring to a boil and simmer for about two hours if cooking in a traditional pot or approximately four hours in a slow cooker.
Minestrone Soup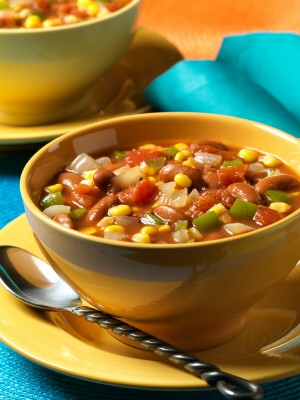 Vegetable soups, from my slow cooker recipes, yields the aromas and nutrients of the vegetable into the broth gradually. The benefit of cooking this way is that your meal can be ready in three hours or as long as ten hours.  That's what makes it perfect for any schedule.
1 large onion, cut into 1/2-inch dice
1/2 teaspoon dried sage
3 carrots, pealed and cut into thick slices
4 cups of homemade vegetable stock
2 celery ribs, chopped
1 15-ounce can chickpeas, drained and rinsed
2 yellow bell pepper, stemmed, seeded and halved
1 cup 100% vegetable juice, such as V8
3 cloves garlic, chopped
1 can diced tomatoes
1 teaspoon chopped fresh savory
1 tablespoon red wine vinegar
1 teaspoon chopped fresh rosemary
1/4 teaspoon ground black pepper
1 teaspoon chopped fresh thyme
1/4 cup chopped fresh Italian (flat-leaf) parsley
1/2 teaspoon dried oregano
1/2 lemon juice and finely grated zest of 1/2 lemon
1/2 teaspoon dried basil
Add vegetable stock, chickpeas, vegetable juice, diced tomatoes, vinegar and pepper to 5 to 6-quart cooker. Remember when cooking these slow cooker recipes, cover and cook for 3 to 5 hours on high, or 6 to 10 hours on low.
Stir in parsley, garlic cloves, lemon juice and lemon zest for 1 minute before serving. Serve garnished with shredded cheese.
Note: For best flavor from these slow cooker recipes, prepare a day or two ahead or cook overnight, refrigerate until dinner time and reheat on the stove top.
Moroccan Red Lentil Soup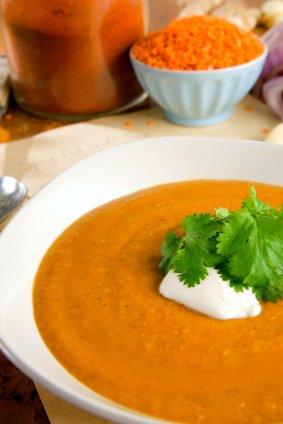 Take a deep breath and smell the cumin, the coriander and cinnamon. Then take a look at the colors of burnt-orange flow of turmeric burnished with tomatoes and sweet paprika. You are going to love this soup.
2 large onions, chopped
1/2 teaspoon ground black pepper
2 cloves garlic, minced
7 cups vegetable stock
2 teaspoon ground coriander
1 can crushed tomatoes
1 teaspoon ground cumin, preferably ground from whole seeds toasted in a dry skillet
2 cups dried red lentils, washed and rinsed or substitute with 2 cups dried white beans
1 teaspoon ground turmeric
Pinch of red pepper flakes
1/2 teaspoon paprika
Juice of 1 lemon
1/4 teaspooon ground cinnamon
3 tablespoon fresh Italian parsley
1teaspoon chopped fresh cilantro
1/2 teaspoons kosher salt
Place all ingredients except pepper flakes, lemon juice, parsley and cilantro, in a 6-quart cooker and cook for 4 to 5 hours on high, or 8 to 10 hours on low.
Stir in and cook on high for 10 minutes pepper flakes, lemon juice, parsley and cilantro.

Note:  If you would like to add meat to your soup, add 1 pound boneless, skinless dark chicken meat or leg of lamb. Before adding meat to slow cooker, heat olive oil in a large skillet over medium-high heat, saute onion, your choice of meat cut into 1/2-inch pieces and browned.
Then add to cooker and proceed with cooking instructions.
STEWS

Chicken Cacciatore

Cacciatore means 'hunter' in Italian and in ancient times was usually made from game meat that was stewed and very nourishing. Cacciatore has an abundance of delicious gravy, so serve it with noodles, rice or lots of bread to soak up the juice.
For this slow cooker recipe we use dark meat instead of white meat. Skinless chicken thighs still on the bone is excellent for maximum flavor and succulence. Great substitutes are turkey thighs or wings or cut-up rabbit meat.
1/3 cup flour
2 cloves garlic, minced
1 teaspoon kosher salt
1/4 teaspoon dried oregano
1/2 Teaspoon coarsely ground black pepper
1 teaspoon chopped fresh rosemary, or dried rosemary, crushed
2 teaspoons poultry seasoning
1 cup vegetable broth
4 pounds skinless chicken thighs, about 8, bone-in
1 onion, chopped
2 to 3 tablespoons extra-virgin olive oil
1 tablespoon minced anchovy fillet or anchovy paste
1 cup canned diced tomatoes, drained
1 pound mushroom, cut into thick slices
2 tablespoon chopped fresh Italian parsley
Mix flour, salt, pepper and poultry seasoning in a medium mixing bowl. Thoroughly coat chicken thighs in the flour mixture. Shake off excess flour and reserve the seasoned flour mixture.
Heat oil in large skillet over medium to high heat. Brown chicken, about 3 minutes on each side. Then transfer browned chicken to 6-quart cooker.
Saute onion, garlic, oregano, rosemary and mushrooms in skillet until tender. Add the reserved seasoned flour and stir until the vegetables are coated. Pour in vegetable broth and tomatoes and heat until thickened.
Keep stirring, scraping up any browned bits clinging to the bottom of skillet and then pour into cooker. Cover and cook for 3 to 4 hours on high, or 5 to 8 hours on low, until meat is easily pierced with a fork.
Remove chicken from cooker to a platter.

Stir in anchovies and parsley into the sauce and simmer for another 5 minutes. Spoon sauce over chicken and serve.
Return To Foods For High Blood Pressure