Are You Living With High Blood Pressure?
There is no need to panic if you are the one who is living with high blood pressure. It doesn't mean your life is over. This just means it is a chance for you to start over and take new steps in caring for yourself.
If you have uncomplicated high blood pressure your quality of life can be improved due to the fact that you are taking better care of your body.  Because you are limiting your salt intake, and lowering your calorie consumption.
Now you have a chance to taste some great tasting foods that were hidden behind the strong taste of salt. You are even feeling more attractive and healthier because you are losing some weight.  You need to read all the information available on high blood pressure so that you can make positive changes.

Diagnosed And Living With High Blood Pressure
Once diagnosed, you'll have questions.  Like, can it be cured?  How will it affect my life?  Do I now have to eat tasteless foods?  Do I have to take medications for the rest of my life?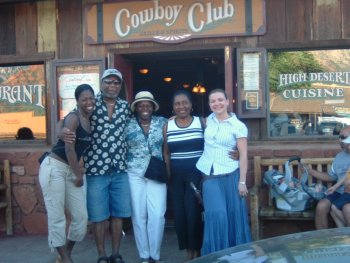 All these are valid questions but your life is far from over. You can still do your everyday tasks, but you need to make a couple of changes so that you can have a good quality of life that also include longevity.
You have to take steps in keeping your blood pressure under control to live a healthy life.
I have been diagnosed with high blood pressure for over fifteen years and I'm fine and am enjoying life. Although high blood pressure can be a life threatening condition and must be managed, restricting your life by avoiding strenuous exercise or stop eating out is not part of the plan.  Here I am out with family and best friend having a great time in Arizona.

After You Are Diagnosed With HBP
You'll be prescribed a list of HBP medications that will be appropriate for your body type and told to monitor your blood pressure daily.  The consequences of not treating your high blood pressure is far greater than the side effects of your medication.
Some of the consequences are a stroke with you paralyzed for life or having a heart attack and dying.
Buy a blood pressure monitor for your home, monitor your blood pressure daily, keep a record of your measurements that will help you to know when your pressure is spiked and what might be contributing to that spike.
At times certain foods we eat do increase our blood pressure.
Read my HBP Guidebook that is packed with vital information and steps for you to begin taking care of yourself.

Your doctor will advise you to include daily regiment of exercise, and make changes to your diet.  You should consume foods that are high in potassium, adequate amounts of calcium and magnesium, and low in sodium.  Decrease your calorie intake to prevent obesity and be moderate in your alcohol consumption.
With the lowering of your blood pressure you may be able to escape the having of a heart attack, brain damage or kidney failure, that are all side effects of untreated high blood pressure.
Living Your Life To The Fullest With HBP
You must make sure to always focus on your diet, daily supplements, medications, stick to an exercise program so that you can avoid complications that comes with having an elevated blood pressure.

Living with high blood pressure has made me more aware of any changes within my body, you too must get to know and listen to your body even more.  
Return From Living With High Blood Pressure To Info On High Blood Pressure