Lip Smacking Desserts For
High Blood Pressure Individuals

I love desserts and I am tempted at times to eat it as a meal instead of a treat.  These delicious indulgences can be guilt-free and should be indulged in only once in a while and in moderate portions.  Good luck.  We all have to eat but we must consider the consequences of what we place into our mouths that can affect our health.  
Fresh fruits are the healthiest desserts by themselves or topped with low-fat or fat-free yogurt.  For me, toppings are not fat-free I just limit myself to a smaller portion.
The taste of real whipped cream and whole milk is heaven.
Apple-Cranberry Crisp Desserts

Makes 10-12 1/2 cup servings.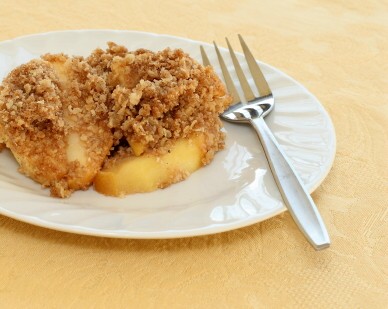 Apple-Cranberry Crisp
1 12-ounce package cranberries


2 large apples, pealed, cored, and sliced thin


1/2 cup sugar


1 teaspoon cinnamon


1/4 cup unbleached or whole-wheat flour, divided


2 tablespoons packed brown sugar


3/4 cup old fashioned oats


1/2 cup chopped walnuts


3 tablespoons trans fat-free margarine, melted
Preheat oven to 375 F. In a large bowl, combine cranberries, apples, sugar, cinnamon and 1 tablespoon flour. Transfer the mixture to a greased 6-dup shallow baking dish. In the same bowl combine remaining flour, brown sugar, oats, and nuts.
Stir in melted butter and mix well (the mixture should be crumbly). Sprinkle oat mixture over fruit mixture and bake for 40 minutes, or until the crisp is lightly browned.
Let stand for 10 minutes before serving.
Glazed Oranges With Pomegranate Seeds
Love pomegranates they are so sweet and colorful. This is a refreshing and simple dessert to make.
Makes 4 servings.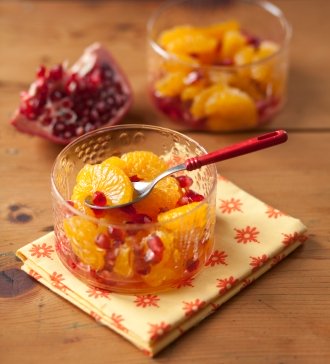 orange and pomegranate fruit salad
Oranges


Pomegranate


1/2 cup water


1/4 cup maple syrup


1 cinnamon stick


5 cloves


Zest of 1 orange


Zest and juice of 1 lemon
Peel off the outside skin from oranges and slice in rounds and place into serving dish. Cut pomegranate in half and remove seeds from one half and add to bowl with oranges and set aside the other half of pomegranate.
In small pot over medium heat combine water with syrup, cinnamon stick, cloves, zests and lemon juice. Bring to boil, reduce heat and simmer for 7 minutes.
Remove from heat. Squeeze remaining pomegranate through a sieve to get juice and stir into glaze. Pour mixture into bowl over oranges and pomegranate seed and serve warm or chilled.
Enjoy these foods.  I recommend using the following healthy substitutions to lower fat, sodium and sugar.
INSTEAD OF
USE
Whole milk
1% milk or soy milk
Cream
Fat-free half and half
Butter or shortening/lard
Grapeseed oil or trans fat-free margarine
White flour
Mixture of white and whole-wheat flour
Sugar
Dried fruit or fresh fruit puree, or less sugar
Eggs
Egg substitute
Whipped cream
Fat-free whipped cream
Chocolate chips
Semisweet or dark chocolate chips or carob chips
Sour cream
Low-fat or fat-free yogurt
Custard or cream filling
Silken tofu blended with flavorings
Regular pie crust
Reduced-fat and whole-wheat pie crusts
Your Foods For High Blood Pressure List
What foods have you found to not spike your blood pressure measurements? Whats on your grocery list, and have you download a copy here?

Do share your ideas here.
Return to "Foods For High Blood Pressure" from "Desserts".