Cedarwood Essential Oil:
A Primary Essential Oil Therapy
For High Blood Pressure

Cedarwood essential oil contains the sesquiterpene cedrol when inhaled stimulates the limbic region of your brain - the center of emotions - stimulating the pineal gland which produces and releases melatonin. 
A 2007 Journal of Physiological Anthropology found that cedrol produces a relaxing and sedating effect by influencing the autonomic nervous system.
Melatonin plays an important role in reducing stress by thwarting excess cortisol production.

The extraction method of this oil is through steam distillation from its bark.
Throughout antiquity, cedarwood (Cedrus atlantica) has been used in medicines and is used in Tibet as a traditional medicine and incense.
High Blood Pressure - The Mind, Body, Spirit And Emotions Illness
The plants that make up these oils not only play a vital role in the ecological balance of our planet Earth, but they also have been intimately linked to our physical, emotional and spiritual well-being from the beginning of time.
Your brain or mind is the regulator and control center responsible for all your body functions. It is multitasking, controlling and monitoring everything that you do. It allows you to create, learn and think, because your mind plays such a crucial role in your body's function.
Therefore it is essential that you take the necessary steps to nurture and care for your brain by keeping your high blood pressure under control.
You have to respect the intimate relationship between your mind and the physical, emotional and spiritual aspects of well-being. One of the founding principles of naturopathy is to treat the whole body as an integrated whole in all its physical and spiritual dimensions.
Including essential oils as part of your high blood pressure lowering therapy without any of the side effects associated with pharmaceutical drugs is a good habit to develop.
The Profound Influence Of Cedarwood Essential Oil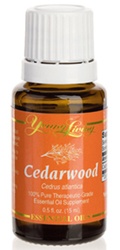 This essential oil can be diffused, applied to your neck, throat, nose, wrist or directly inhaled.  Essential oils are perfectly suited to immediately influence and begin correcting your emotional imbalance.
When you smell this essential oil, the olfactory receptors in your nose immediately respond and calms your brain which promotes dynamic physiological changes. These powerful aromas simply cannot be ignored by the brain because of the sense of smell direct connection to your brain.
The use of essential oils along with your doctor's supervision, controlling your high blood pressure begins.
Return To Essential Oils For High Blood Pressure From Cedarwood Essential Oil