Coffee And High Blood Pressure
Does It Raise Your Blood
Pressure

The relation between coffee and high blood pressure have been a concern to you and many other people. Especially when a cup or two of coffee is a harmless way to start your morning.   Who can resist a good cup of cappuccino, latte and mocha.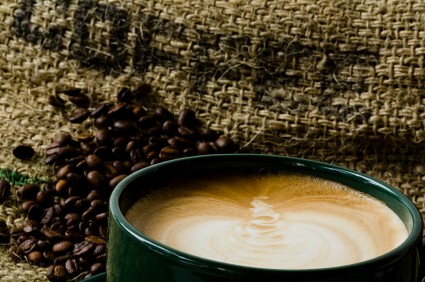 But the relationship between blood pressure and caffeine has been studied in hundreds of scientific studies that has provided no solid evidence that moderate caffeine consumption significantly raises blood pressure over the long run.
It does however temporarily affect your blood pressure.   Though hypertension usually occurs because of stress, a neglected diet, your busy lifestyle and also of your age.
Your Drink And Blood Pressure
The drinks you consume throughout your day can have significant impact on your blood pressure readings.   But, while some drinks have a negative effect, there are also other that have the result of balance to your blood pressure readings.

When it comes to the relation between coffee and high blood pressure, it was thought for a long time that coffee drastically increases your blood pressure levels.  However, as more and more studies were conducted it was revealed that the reality is a different one.
What Does Coffee Studies Reveal
In 1999 Dr. James Lane at the Duke University assessed the effects of caffeine on seventy-two coffee drinkers, twice a day, who were given 250 milligrams of caffeine, about two to two and a half 6-ounce cups of coffee in a capsule form over a two weeks study.

In this study the individuals blood pressure were slightly elevated throughout the day, which can adversely affect your health.

This study showed that excess coffee adversely affect your blood pressure.

Another study that was coordinated by Dr. Wolfgang Winkelmayer conducted over a twelve year period showed that women drinking a cup of coffee regularly have in fact a lower risk for high blood pressure over those who only occasionally consume coffee.
The explanation of this study's result was that coffee contains antioxidants, a substance that helps to lower your heart and reduce cancer risk.

Though another argument for the those result states that the fact that those women drank coffee regularly became tolerant to increased blood pressure levels.
Conclusion Of This Study
The study states that the relationship was unclear for a long time, but it is now known that even if coffee leads to increased blood pressure, it doesn't represent a risk factor for heart disorders in a healthy person.

As you can see coffee and high blood pressure are not negatively connected. So coffee lovers you can continue to enjoy your morning coffee, cappuccino, latte and mocha.

Drinking coffee on a daily basis doesn't lead to blood pressure problems in the long run.
Return From Coffee And High Blood Pressure To High Blood Pressure Diet

---
Home | About Me | Contact Me

---
The Ravages of High Blood Pressure
High blood pressure can cause so much damage to our bodies, do you have a story to tell about this.

Or how did you overcome this silent killer. Tell us your secret.

Do Share It!