What Is Your Blood
Pressure During Exercise?

Higher increase in your blood pressure during exercise is common if you have been diagnosed with high blood pressure. Studies suggest that it is wise for you to exercise every day to lower your blood pressure. 

GARMIN 010-10997-00 Heart Rate Monitor
And, the best part is your aerobic exercising does not have to be completed in a single session. Two or three daily sessions of ten to fifteen minutes are very good, it adds three years to your life.
Exercising At The Right Pace

Researchers have found enhanced heart and nerve functioning if you are hypertensive during exercise as compared to individuals with normal blood pressure.
When you are exercising try to raise your pulse above 100 beats per minute. Just enough for you to sweat lightly and make you slightly breathless, but not too briskly that you cannot talk.
You should also measure your pulse rate, by wearing a heart rate monitor, during your blood pressure during exercise and that will insure you stay within your safe range for burning excess fat and improving your cardiovascular fitness without over-stressing your heart.
Take your 10 second pulse every ten minutes as you exercise and here are the 10 second pulse ranges:
Age Group
Pulse Range

---

20 - 29
20 - 27
30 - 39
19 - 25
40 - 49
18 - 23
50 - 59
17 - 22
60 - 69
16 -21
70+
15 - 20
If you are just starting an exercise program make sure your pulse stays at the lower end of your 10 second pulse range to start and then gradually build your way up to the upper end of the range numbers over several weeks.
Should your pulse rate goes higher that it should just stop exercising and walk around slowly until your pulse lowers.
At the end of this twenty minutes exercising your endorphins gives you an invigorated feeling.  As always check with your doctor before starting any exercise program.
Why Blood Pressure Increases During Exercises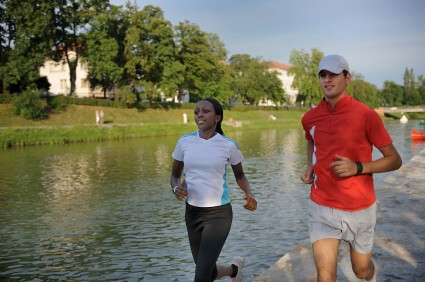 All your physical activities including eating, talking, laughing, walking, moving heavy objects and walking up and down the stairs increases your blood pressure to some extent for a specific period of time.
It is totally normal to experience high blood pressure during exercise and it normally goes away after an hour of your working out.
How To Prevent Blood Pressure During Exercise

Here are some steps to prevent you from experiencing stress during your exercise:
Always drink lots of water and also green tea twice a day. Keep you hydrated, do not allow yourself to get thirsty.


It is recommended to start with light exercises and walking to warm your muscles. Always warm up and cool down before and after any form of exercise. This helps you avoid injuries.


Wear a heart rate monitor to measure your blood pressure during physical activity. Normally your systolic reading should not exceed 180 as it may increases your chances of a heart attack.


Do exercises according to your age group. Talk with your doctor about suitable exercises for you.
We now know that regular aerobic exercise has profound benefits on your cardiovascular system. It lowers your raised blood pressure and reduces your risk of premature death from coronary heart disease to over 40%.
Whats Your Exercise Program
What exercises do you enjoy the most and have you dropped some pounds?

Your comment is sure to encourage and help someone.

Return From Blood Pressure During Exercise To Exercises To Lower Blood Pressure