Smoking And High Blood Pressure

If you have hypertension, it is important to learn about smoking and high blood pressure disease.  Smoking can directly or indirectly elevate your blood pressure and can lead to severe heart problems.
But, suppose I tell you that if you avoid or quit smoking and you are in your 40's, it means you will be enjoying these activities so much more:
If you're pregnant - the health of you and your baby is increased
Your work performance, increase in your social activities and the possibility of living longer
And lowering your blood pressure
You benefit if you stop smoking no matter your age or physical condition.
Would you change your habit, possibly stop smoking? Of course you would. All you need to do is quit smoking.  I know you are thinking that's easy for me to say but much harder for you to do.
You need to know that you benefit from stop smoking no matter your age or physical condition.  Also I am here to give you all the available tools to help you make this change, especially if you are smoking and high blood pressure is diagnosis.
Here you will discover the effects of smoking if you have high blood pressure and ways you can quit.
How You Increase Smoking And High Blood Pressure Damage To Your Body
Smoking is hazardous for your blood vessels, as continuous smoking makes your blood vessels harden which causes blood flow difficulty and so triggers high blood pressure.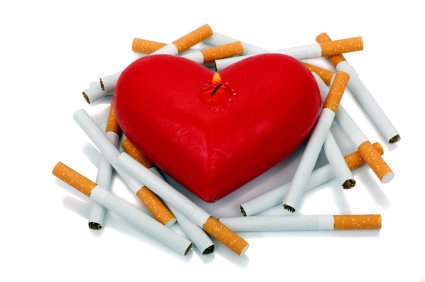 Nicotine, a colorless, poisonous chemical that is used to kill insect, is present in cigarettes, and chewing tobacco can cause constriction in your blood arteries which makes the heart work more than normal.  The more you smoke, the higher the nicotine level in your blood stream and the higher your blood pressure.

Now the oxygen in your blood decreases as the nicotine directly stimulates the production of epinephrine, also known as adrenaline, a hormone that raises blood pressure in the adrenal gland.
Smoking also contains carbon monoxide which is a destructive ingredient that affects the hemoglobin in your blood.  This can cause serious damage to your heart.  You are at risk for different medical consequences of high blood pressure and also diseases such as mouth and lung cancer associated with smoking.
Quitting The Habit Of Smoking
Follow these tips and you'll reap these great short and long term health benefits:
The healing starts within twelve hours as the carbon monoxide levels in your body falls. Your heart and lungs will begin to function more normal, lowering your blood pressure and heart rate.


Prepare a list of reasons why you need to quit smoking and read them everyday.


Talk with your partner, friend and family member about your decision and prepare a quitting program with them.


If you think it's difficult to quit altogether at once, start by cutting down on the amount of cigarettes you smoke each day.


Drink plenty of fluids, for instance herbal teas, fruits and vegetable drinks and warm water throughout your program. Honey and lemon drinks is considered as the best detoxification remedy for smokers.


Consume folic acid, fiber-rich food and green vegetables for helping your body gain required nutrients.


Your taste buds and your sense of smell return in a few days.


After five years, your risk of cancer of the mouth and throat decreases.


Prepare for relapses. Give yourself another chance to succeed. Find how what caused you to relapse and try to avoid it the next time around.
So now you see what smoking and high blood pressure can do to your health and the quality of your life.
Effective Methods Of Quitting
There are two effective ways for you to quit smoking and they are nicotine replacement therapy and smoking cessation aids.  Some you may be able to buy over the counter at your local pharmacy but the other requires a prescription from your doctor.
Nicotine replacement therapy includes nicotine gum, lozenge, patches, nasal spray and inhalers. This therapy delivers small doses of nicotine to reduce your withdrawal symptoms.
If smoking and high blood pressure are associated with nicotine intake, plan to use this therapy as short a time as possible because nicotine in this form still raises your blood pressure.
Smoking Cessation Aids does not contain nicotine but do decrease your withdrawal symptoms. There seems to be new products almost daily on the television but these aids, like Zyban, are prescribed by your physician.
For more information, read the
American Heart Association views on what are the effects of smoking on blood pressure.
Return From Smoking And High Blood Pressure To What Causes High Blood Pressure